The kitchen is the heart of the home, and over the years its design and layout have changed quite a bit. Once existing as a purely functional place to cook meals and wash dishes, kitchens have evolved into a space for families and friends to gather and a place to showcase design. Over time, kitchen design has changed quite drastically, from simple and concise to lavish and elegant. See how the kitchen truly became the heart of the home through the ages.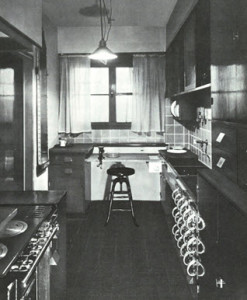 1920s. Kitchen design advanced significantly in the 1920s thanks in part to Margarete Schütte-Lihotzky, an Austrian architect who created a kitchen that kept all necessary items within arm's reach. This design was called the Frankfurt Kitchen, and the idea of grouping each section of the kitchen (sink, oven, cabinets, etc.) as it's own "station" was revolutionary.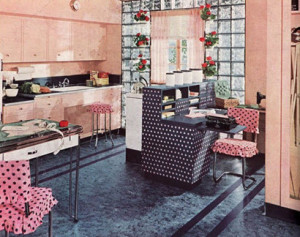 1930s. During the 1930s, appliances started to blend in with the cabinetry in the kitchen instead of standing out. This design created a more streamlined space and a cleaner look. Kitchens became a place to cook meals and show off the homeowner's design taste rather than existing for purely functional reasons.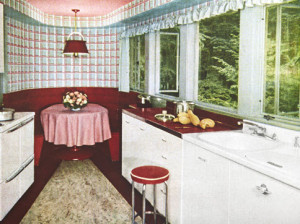 1940s. In the 1940s, casual dining spaces became standard in kitchen design. Built-in eating nooks allowed families to gather for meals close to where the food was being prepared. Compact washing machines were also placed in the kitchen during the 1940s because laundry rooms weren't common yet.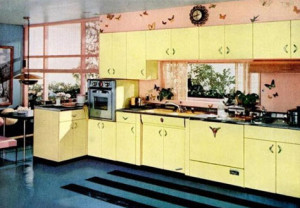 1950s. Known for their bright pastels and colorful linoleum, kitchens in the 1950s were the perfect place for families to gather for dinner after a long day. A popular trend in the 50'=s was to have the kitchen appliances match the cabinets, which is why there are so many blue and yellow dishwashers from the 1950s.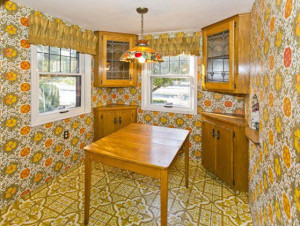 1960s. The 60s ushered in the era of bright wallpaper and bold colors. The 60s valued functionality and kitchen designs tried to utilize every space available to them. Stainless steel appliances also started to make an appearance in kitchens during this time.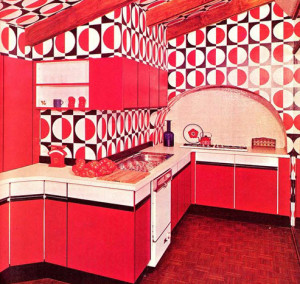 1970s. While the 60s was all about bright spaces, the 70s took this a step further with bold patterns and clashing colors. Walls covered in two different prints of wallpaper or kitchens with more than one accent color became popular. Hidden appliances also became a standard. People wanted their refrigerators or dishwashers to blend into their cabinets to create a more unified look.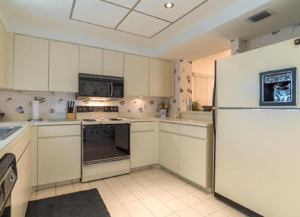 1980s. Kitchens designed in the 80s were a far cry from the bright wallpaper of the 60s or rich colors of the 70s. They were typically bright, clean, and white. White or Ivory cabinets became standard, and most appliances were only offered in white or black. Another popular design of the 80s was cabinets without handles, giving kitchens a sleek and modern look.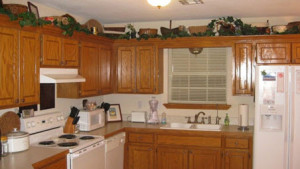 1990s. Kitchens of the 90s became even more minimalist. Oak cabinets were extremely common along with white-only appliances, creating a soft, countryside look. People began to use their countertops not only for cooking but also to display knick-knacks, flowers, or other small design pieces.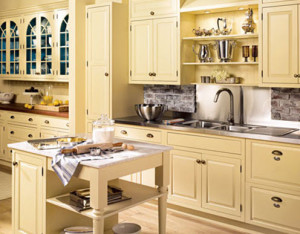 2000s. The traditional role of kitchens as a place for cooking meals and doing the dishes was combined with people's desire to have the kitchen be a place to host guests and enjoy family during the 2000s. Islands and beige cabinets to the kitchen were popular.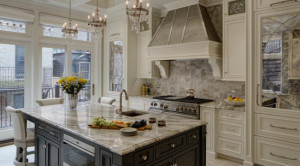 Present. Today, people view the kitchen as another room in the home to display their tastes. With accent colors and bold pieces, people are creating spaces they love to share with their families. Functionality is still very important, but kitchens today also balance grace and elegance.
Design elements are always being recycled as new styles come and go, but a kitchen will always be the heart of the home. Are you thinking about remodeling your kitchen? Contact the professionals at Remodeling Concepts, a Bucks County home remodeling company.